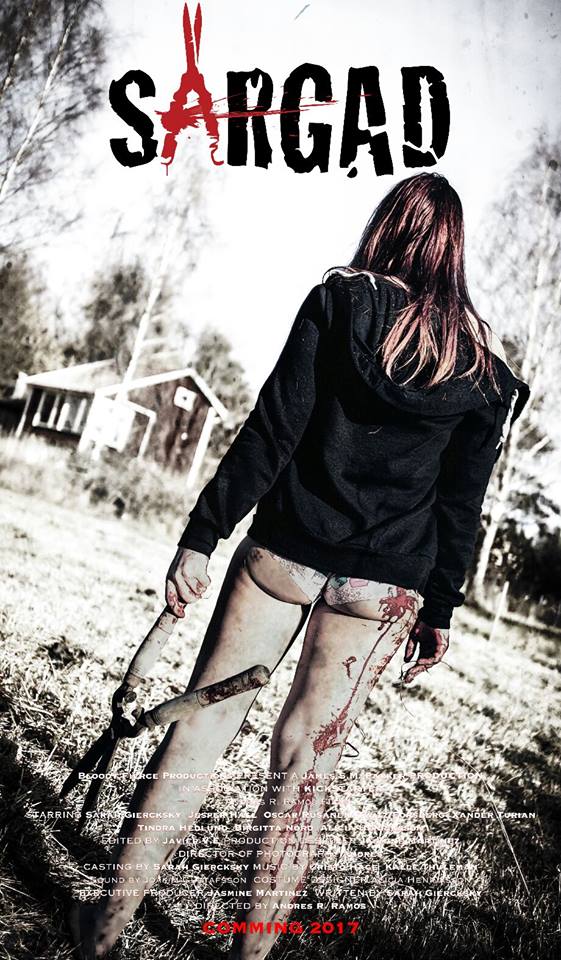 Rockets are rumbling and ready to launch at Space Jockey Reviews, with the latest news from Sweden!  Sargad (Wounded)–the first feature horror film from from the beautiful, ultra-talented Sarah Giercksky (and Bloody Fierce Productions)–is coming to DVD in 2017, making news at light speed!  With Sarah (Bitches of Horror Host, SFX artist, and more), as the writer of the film and lead actress too, Sargad promises to satisfy even the hungriest of horror fans out for blood! Yes!  Starving or not, this looks likes one to savor!

What's it all about?  Fom the movie's website, "Sargad is about a young woman, Elina (Sarah Giercksky), who drives out to a cabin with her mother and younger sister to spread her dad's ashes. The family used to live in the cabin when they were younger and thinks it is the perfect place for their dad to rest in peace. There, they encounter three men that will make their weekend at the cabin a living hell….and yes it will be brutal."  Yes, it will!  But, after the three brothers inflict hell on Elina, open the gates for an encore!  She's a woman hellbent on revenge in the bloodiest, most punishing way possible (as it's always best delivered) even wearing the blood of her victims as warpaint!  Oh, my! The horror!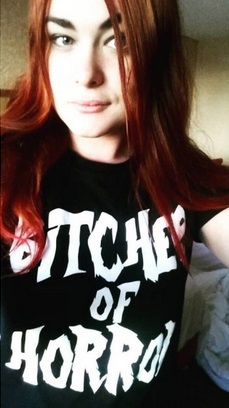 Bloody Fierce Productions describes itself as a "Swedish Indie production company that focuses on the dark side of humanity, creating short films and feature films surrounding the subject."  Indeed, it certainly appears to do so, with a vengeance in Sarah Giercky's Sargad–directed by Andres R. Ramos and written by Sarah Giercksky, starring Sarah Giercksky, Xander Turian, Krister Twizz Forsberg, Tindra Hedlund, Alicia Henriksson, Oscar Rusanen, Jesper Hell, and Birgitta Nord, produced by  James S.M. Parker, with cinematography and editing by Javier Vilar Ehrlin, and special effects by (you guessed) Sarah Giercksky.  Yes!  The name Sarah Giercksky keeps coming up a lot, and we're not surprised at SJR.  (For a complete list of cast and crew, see IMDb).
The trailer below (edited by Javier Vilar Ehrlin) is enough to make the crew at SJR want a copy right now!  Music in the trailer is aptly titled "Hell House," written by Xander Turian and performed by the Swedish rock band Our Untold Story.  The trailer (as well as the movie) is in Swedish, with English subtitles.  Enjoy!


As a bonus, here's an awesome interview with the red-haired revenge seeker herself, Sarah Giercksky.  Having studied screenplay writing and film production in Swedish film schools for many years, Sarah is a huge horror-lover and has been watching horror movies since she was six years old.  In the interview, Sarah gives fans updates for an earlier Sargad Kickstarter campain, as well as stories from her own personal experiences with writing, movie making, and life in general.  Here she talks about her beginnings a as screenwriter and filmmaker, the obstacles she overcame, as well as what reignited the "fire" in her creative spirit!  Space Jockey Reviews loves Sarah's creative fire!  We already have rockets on launchpad, the countdown started, and the movie preordered.  From the looks of the trailer for Sargad, there's lots more great things to come…and lots more rockets to be launched!  (As Sarah says here, she's already working on a screenplay for her next feature-length film!)  …5…4…3…2…1…0.  Let the revenge begin!

Alas, the bonus gets better!  Yes!  Below is Sarah's showreel and more sweet photos of her, behind the scenes of Sargad and elsewhere.  Also, stay tuned to Space Jockey Reviews for all the latest on Sarah, Sargad, and whatever else her imagination "on fire" puts to paper…and to the screen!  We can't wait!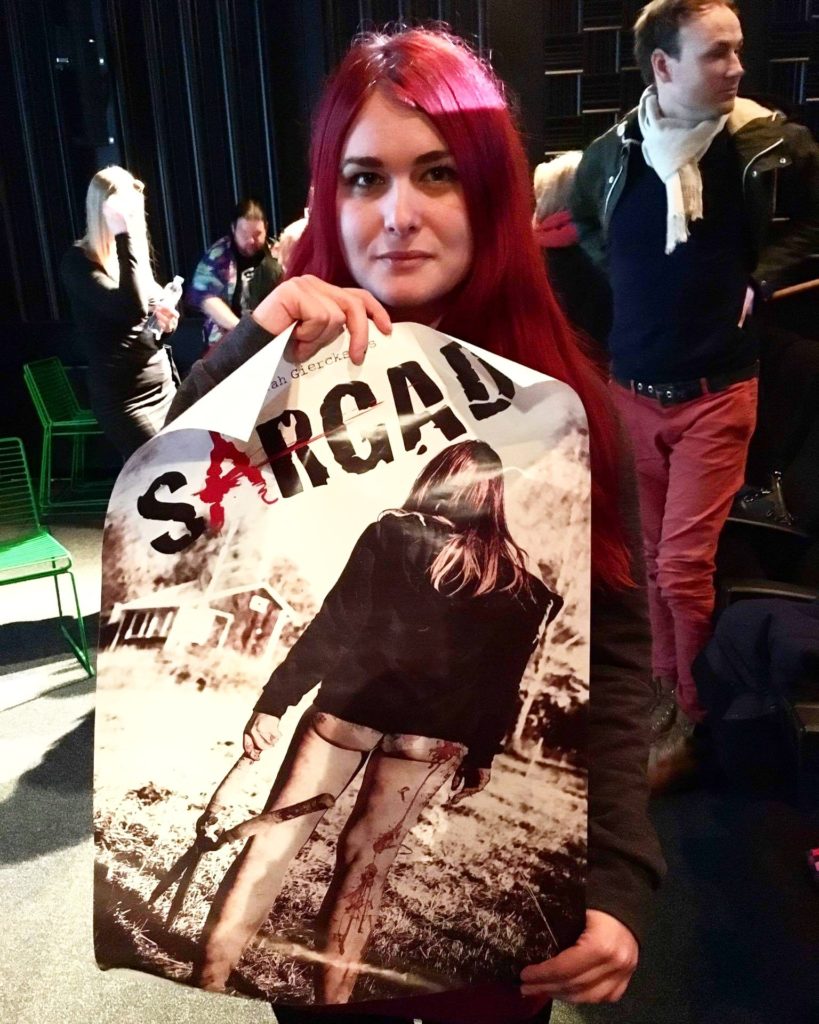 For all the latest Sargad updates and more, check the movie's official website at www.bloodyfierceproductions.com
"Like" Sargad's Facebook page at www.facebook.com/Sargad/
Follow Sarah on Facebook at www.facebook.com/Placebohoe
Follow Sarah on Twitter at twitter.com/Placebohoe
For great videos and more, visit the Bitches of Horror Youtube channel!
Get your very own Bitches of Horror T-shirt, by clicking on the banner below!


You may also like these!