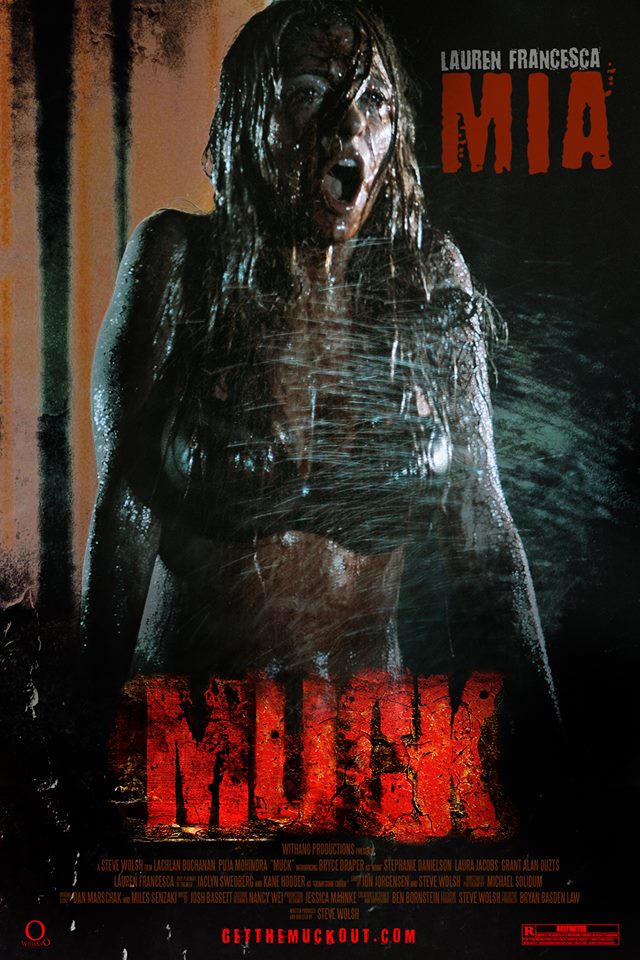 As Muck continues to build buzz in the horror community, Space Jockey Reviews is presenting, with fanfare to spare, all we know to the universe as well–screenshots, the latest trailer, production news, prequels, and more! Let's begin with a concise but compelling IMDb synopsis of writer/director Steve Wolsh's latest feature:
"After narrowly escaping an ancient burial ground, a group of friends find themselves trapped between two evils, forcing them to fight, die, or go back the way they came." ~ IMDb
Yes, that's all we know at this moment of atomic time; but, the photos and trailer below speak volumes more to compensate! SJR is willing to bet a couple of trips to moon that you'll agree.
If otherworldly wagers are not enough, there's more! Muck's Production Coordinator, Kurt Skaggs, informed SJR that a 2014 release date for Muck is yet to be negotiated, but certainly in the works! "Either way," says Skaggs, "you'll be happy to know that casting for the Muck prequel is already underway." Skaggs adds, "As unusual as it sounds for an indie horror film project, Steve Wolsh and WithAnO Productions are already prepping the second film in the Muck trilogy and are set to begin production in late August, as casting is underway as we speak. Muck boasts a great looking cast of up and comers as well horror icon Kane Hodder (Jason in the Friday the 13th films, Hatchet 1,2,3) and 2012 Playboy Playmate of the Year, Jaclyn Swedberg." Check SJR for all the latest!
While beauty alone does not make a horror film great, it certainly doesn't hurt. And what a serious docket of damsels Muck has for liftoff from the start. Yes, Muck's A-list of pulchritude challenging the best in the universe includes SJR favorites Lauren Francesca (Space Girl), Puja Mohindra, Stephanie Danielson, Jaclyn Swedberg, Gia Skova, Laura Jacobs, Ashley Green Elizabeth, Victoria Sophia, Leila Knight, and Audra Van Hees! Never in all of Space Jockey history have so many sirens of cinema existed in one place, at the same time! Yes! Temporal anomalies have never been so profoundly found! Enjoy!

Check out the awesome Muck screenshots below!
Be sure to visit Muck's official website at www.getthemuckout.com!
Check out Muck on IMDb for production notes, release dates, and more!
Muck, written and directed by Steve Wolsh, stars Kane Hodder,Stephanie Danielson, Jaclyn Swedberg, Lachlan Buchanan, Gia Skova,Lauren Francesca,Laura Jacobs, Ashley Green Elizabeth, Victoria Sophia, Leila Knight, Audra Van Hees, Puja Mohindra, and more! See Muck's IMDb page for a complete list of the cast and crew.
Check out Muck's Official "Fight. Die. Or Go Back the Way You Came." Trailer below!
You may also like these!