Space Jockey Reviews has received a copy of the latest script from actor, writer, director, and producer Jennifer Linch and Sushine Pictures! From what's on paper, The Dream–a martial arts comedy–is an REM fantasy worth happening more than once in the mind! What's it all about? Like a quantum singularity, it's content weighs much more than it's short-film length would suggest.
Our intersteller interlude begins with in-your-face reality, grounding itself before takeoff, with familial, earthly events. Imagine a son coming home with a bloody nose, trying to slip past not one but two doting dads with no stomach for violence. Yes! Abuse inflicted on their pride and joy boy (nicknamed "sweetheart"), is, as it should be, a case for 911. No! The old "cover-the-face-with-a-hoodie" trick won't work here! The four combined eyes of two dads (John Paul Ouvrier and Marty Fallor) is, indeed, too much surveillance for one boy; as you guessed, family drama ensues.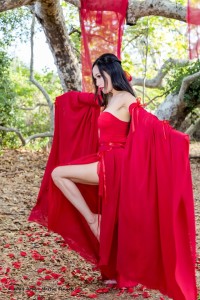 The boy, Justin (played by Dustin Stern-Garcia), cannot imagine the adventures ahead in his nocturnal fantasies. Yes! His encounter with the beautiful "lady-in-red" siren (Jennifer Linch) is most certainly the stuff of dreams not forgotten. And what a beautiful siren Jennifer Linch makes, outdoing herself yet again. From behind-the-scenes photos, movie clips and more, Jennifer easily plays the role of "The Siren," embodying the stuff of dreams to keep us awake. No! Pulchritude in abundance does not make a movie; but, the script we read certainly does.
As John Keats affirms, "A thing of beauty is a joy forever." But, is Jennifer Linch more than a "thing of beauty" in The Dream. Is she more than an homage to hormones as the sultry siren? Certainly so, ad infinitum, forevermore! She is equally so the purveyor of advice for adolescence and the muse of martial arts mentoring. In Justin's mind and body, The Siren is reality as much as fantasy, and a force for revenge. As she says, "The secret is in the dance." An id of inspiration, unchecked by Freudian boundaries, is a force to fear. Bullies beware!
Adding to the comedy element of The Dream is something SJR always loves–a personified animal, with a sense of humor as well. Yes! A dog shaking its head in reaction to human folly is, indeed, the height of irony anywhere it occurs. Surreal humor is the added bonus, with the help of "man's best friend." The unexpectedness of animals as human as us is akin to Gary Larson humor we love. Yes, the famous cows standing upright in a pasture, talking, until a lookout yells, "Car!" is, indeed, comedy at its best.Taking it further in The Dream, we have a dog who doesn't care. 😀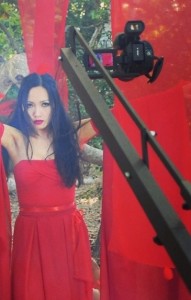 Will strawberry waffles be all it takes to cheer up sweetheart? Will such fruity, toasted treats slathered with syrup soothe the swelling? Will the humans notice the dog shaking his head with confusion? How will this affect their view of reality (and the universe), if they do? Will the animal teach the men a lesson, with an ending unexpected? Or, will canine consternation be lost in monotony as just another day–merely a delusion simply shrugged away? As a new beginning (or perhaps in a sequel), will Justin go on to avenge himself? Will he grow from a boy to a man, energized with strawberry waffles and two dads, driven by a dog and a dreamy damsel? Does Space Jockey Reviews want to see Justin's dream  with the sultry siren? The last is a question best answered with a question…or two. Do stars burn hydrogen? Do red giants go supernova?  Humans and aliens alike answer "yes, absolutely," and "yes" again!
Waiting for more answers, you'll sleep well with The Dream's "beautiful bloopers" below!  House of Flying Daggers lookout; a dim sum dream is on the menu, with the power of a full course fantasy! The latest news has The Dream scheduled for release in October of 2014. As always, stay tuned to Space Jockey Reviews for all the latest! 😀
For complete cast and crew info, visit the The Dream's IMDb page!
"Like" Jennifer Linch on Facebook! Check out Jennifer Linch on IMDb!
Follow Jennifer Linch on Twitter @JenniferLinch!
Subscribe to Jennifer on Youtube, for bonus videos, and more!
Check out all the latest about Jennifer on Space Jockey Reviews!
If you haven't heard Jennifer's SJR interview, shame on you! Click here now!
Don't miss "The Dream: Beautiful Bloopers and a New Project from Jennifer Linch" – an SJR exclusive, with behind-the-scenes photos and more!
You may also like these!