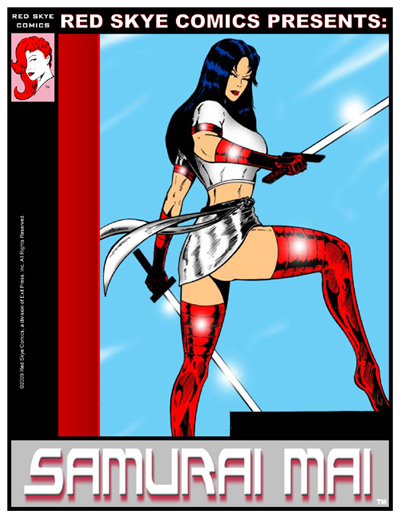 What's Space Jockey Mya (aka Lien Mya Nguyen) up to now? A lot again!  This time, she's the star of yet another superhero comic book–now as Samurai Mai.  Yes, Mya has another comic book under her crime-fighting belt, this time complete with collectible cards and posters too.
On a mission to stop an assassin from murdering a presidential candidate, Samurai Mai must use all her fighting skills and super strength to prevent him from taking out his target. Samurai Mai is a 16 page comic book with a full color cover and black and white interior art. Get your copy of the comic book, the collectible cards, and posters at www.redskyeworld.com (Red Skye Comics–"The World's ONLY Comic Book Company, Featuring the World's Hottest Models").  Or, as a wonderfully interactive experience, you can also click on the beautiful Samurai Mai comic book cover above. As with most great things, there's more than one way to get there! (An out-of-this-world bonus photo of Lien Mya Nguyen is there too!)
From Lien Mya Nguyen herself: "I have been modeling and acting for over 15 years. I enjoy doing so and would love to do this for a very long time. I am also a comic book character in two other comics in the making to be out by this coming summer of 2013. I am very easy and fun to work with. You will see!"
Also check the "Mya News" page on SJR! With Mya, there's always something new!
You may also like these!