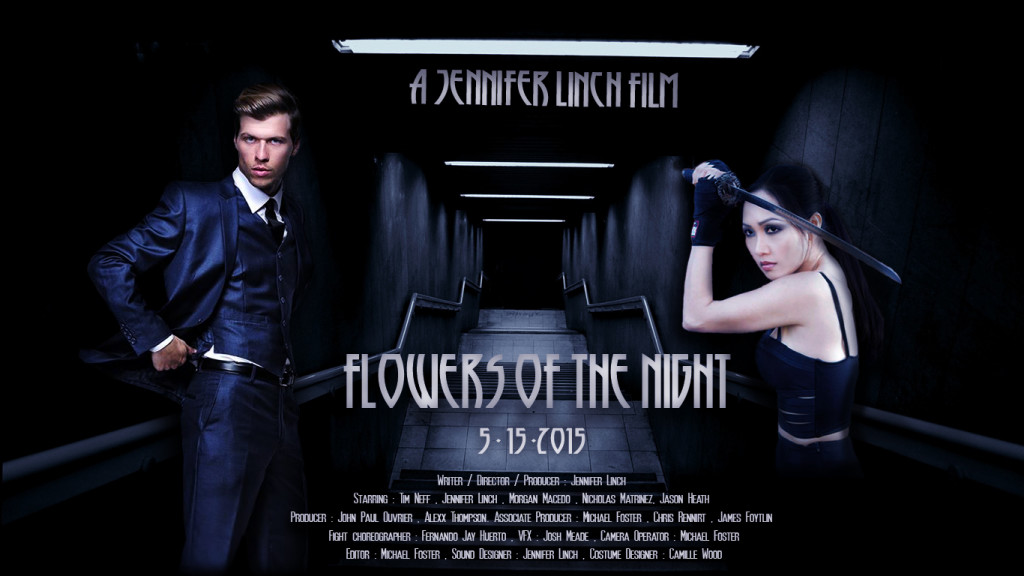 "Flowers of the Night is coming to you with the hottest cast members, along with sexy, edgy, brutal fight scenes just for your entertainment." ~ Jennifer Linch
Fresh from her latest film, The Dream, Jennifer Linch is at it again, once more with things happening in the night. As producer, writer, director, lead actor, sound designer, graphic designer and coeditor, Linch now brings us Flowers of the Night–another sure-to-be-stunning feature film from her own company, Sunshine Pictures! Mixing martial arts, Muay Thai moves and fight scenes galore, this one will kick butt…literally! Preproduction has officially begun, with an all-star cast and crew launching a full payload at SJR already! Jennifer Linch–the youngest female director of martial arts films in Hollywood, with beauty matched only by her talent–makes news across the galaxy, again!
What's the movie about? That's a question best answered by Linch herself: "Flowers of the Night is coming to you with the hottest cast members, along with sexy, edgy, brutal fight scenes just for your entertainment. Our pain and bruises are here just to make your day brighter. We all do our own stunts, and we are committed to making the fight scenes as real as they can be. We will cheer you up like the first sunlight you see after those rainy days. As a filmmaker/director, that is all I ever wanted for my audience, and we are working overtime at Sunshine Pictures to bring those joyful moments to you." Jennifer adds that the movie is "told from the bad guy's point of view," and "there's a torture scene you don't want to miss!" What's more, she says, is "you'll get to see my 'naughty' side as a filmmaker/actress." Form the line at the ticket counter already! SJR predicts a sold-out show…again! Yes! Bring on those brutal fight scenes with naughty galore! Entertainment is our guilty pleasure! With Linch in charge, a "ray of sunlight" shines brightly already on Flowers of the Night! 😀

If that's not enough, there's a lot more! Adding nocturnal blooms to our future film is the well-known and ultra-talented Tim Neff (Expendable Assets, Johnny & the Rockets, Vigilance, First Period, and playing Future Trunk in the upcoming Dragon Ball Z: Light of Hope). In the feature Expendable Assets, Neff had the triple role of actor, stunt coordinator and fight choreographer. In Flowers of the Night, he's the lead male actor–"a sexy, dangerous villain, so bad and so sexy that all the girls will scream his name," says Linch. For an added bonus, seldom seen in most films, Linch and Neff will do all of their own stunts! Yes, the lead actors double as stunt artists too! (For all of Neff's martial arts features and more, check his IMDb page.)
Making a welcome return to Sunshine Productions is SJR favorite John Paul Ouvier (Malevolence, The Dream, From Indonesia with Love 2, The Horizonal Hula, Little Reaper, and much more). The man of all talents joins Flowers of the Night as actor and producer, raising the bar higher, as always. Anytime Ouvrier's involved, Space Jockey Reviews expects 100%, because that's what he delivers. Having seen his performance in The Dream and Little Reaper, no further proof is needed; there and elsewhere, his skills span the genres–from comedy and horror, to drama, suspense and all else. Whatever you do, don't miss Ouvrier showing his comedic side in Jennifer Linch's The Dream, as Death himself in Peter Dukes' Little Reaper on SJR, and singing in his own music video, The Horizontal Hula, on Youtube. Yes! Ouvrier sings too!
Producer, filmmaker and photographer Alexx Thompson (CSI: Crime Scene Investigation, Mr. & Mrs. Smith, Coyote Ugly, Bruno, Grey's Anatomy, Body of Proof, Masters of Sex, and far too much to list here) is an associate producer for Flowers of the Night. With so many hit movies and TV series under his belt, and a nineteen year professional career, Thompson adds what is, no doubt, a meteoric contribution himself! Click here for Thompson's complete filmography!
"In an industry primarily dominated by men, Jennifer has shown that her beauty and talent matched by her incredible work ethic have produced amazing films that audiences love, and will come to love, as years go on." ~ John Paul Ouvrier
Fernando Jay Huerto (Battle Hero Absolute, The Finnisher, Aim for the Head, Rule 43, Those Who Go to Hell, and many more) is Flowers' fight choreographer! Having worked on 300 films in 9 different countries, need we say more about the resume and experience he brings? Absolutely not, again! But we will say more, only because it gets better. Also joining Sunshine Pictures is martial arts expert Darwin Vasay (The Bunker), as Flowers' martial arts adviser. Yes! With double experience on board, a butt-kicking buffet of cinema is the least we can expect! "Technically accurate and correct form," as Linch says, is a given with these guys. (For more, check out and follow Huerto and Vasay on Facebook.)
On board as associate producer and production supervisor is Sean D. McLean (The Ramona Doll, 1 & Only, APart of Our Relationship, Trial by Dates, The Hat: Viral Spots, and much more) and his more-than-impressive resume of talent. With McLean's experience (as editor, producer, director, writer, cinematographer, actor, and countless other film-related roles), Flowers of the Night is certainly well covered. (For Sean D. McLean's full filmography, check his IMDb page.) Michael Foster is also on the team as associate producer and camera operator. Producing the film are KhảiHuy Huyền,ThiênQuý and Bill Roskowski.

"Our pain and bruises are here just to make your day brighter." ~ Jennifer Linch
In charge of visual effects is the ever-artistic Josh Meade (Forbidden Forest, The Dream, Come to Me Lullaby), also producing the movie's awesome poster, showcased above (featuring a "bring it on now" Tim Neff and Jennifer Linch as starring actors). Neff and Linch highlight the foreground, drawing the viewer in and downward, toward and unknown place–a place where Flowers of the Night, no doubt, bloom with a mystery yet to be seen. Yes! With a foreground leaping out and a background pulling us in, the result is nothing short of dynamic. During preproduction, visuals such as posters are the best ways to stand an audience at attention. Thanks to the awesome artwork of Meade, Flowers of the Night certainly has our attention at SJR!

Sunshine Pictures also welcomes one of the best fashion designers in San Diego–Camille Wood, collaborating as costume designer. From Wood's own mini biography on IMDb, written by herself, she says it best: "As the daughter of a 1940s Vogue model, Camille Wood is no stranger to fashion. Although her 5-foot 2-inch frame was too short to follow her mother's footsteps down the runway, she instead took a circuitous route to center stage, including stints as a portrait artist with her own gallery, appearing in radio for a number of years during morning drive time (playing a dumb blonde-a testament to her acting talents), and then to the unlikely position as manager of a 300 acre ranch." From baseball caps to swimsuits to dresses, Wood easily has the experience to outfit a movie! As Linch says, "Wait until you see what Camille has designed for the characters! You will be in for sexy eye candy treats!" Yes, trust Jennifer Linch! With the help of Camille Wood, a very sexy action film is coming to you May 15, 2015, and we can't wait already! (For all of Wood's mini biography, check IMDb!)

Last and certainly not least (as an "eye-candy-treat" and A-List talent) is the beautiful SJR favorite and honorary Space Jockey girl, Morgan Macedo (The Dream, South of 8, A Good Werewolf Movie, Duality, Whitefire). The Native American Macedo is a triple treat as Flowers of the Night's supporting actress, assistant director and Sunshine Pictures' manager. What's more is she's also an awesome cinematographer, still photographer, and captivating subject of photography herself. Yes! Macedo's talent scores another 10 on SJR's Rocket Meter, with out-of-this-world beauty to match! When Linch said "sexy characters" are part of this one, she wasn't kidding! With Linch and Macedo together in one film, reality is proof! For all the latest, "Like" Morgan Macedo on Facebook (and see more rocket-launching photos) at "Morgan Macedo." Follow her on Twitter at twitter.com/morganmacedo and on Instagram too. With all this and more to come, Morgan Macedo is, as SJR likes to say, out of this world!
"You'll get to see my 'naughty' side as a filmmaker/actress." ~ Jennifer Linch

Additional Flowers of the Night details are sure to come, and SJR is sure to have them. However, from what we know now, combined with the talents of Jennifer Linch and all involved, we expect this one to fly like a comet, straight out of the galaxy! As always, stay tuned to SJR for all the latest! In the meantime, check out the exclusive photos of Jennifer below (by photographer Behzad Nassery) and, by all means, enjoy! 😀


As an added bonus, here's a video of Jennifer Linch at her latest Hollywood premiere for The Dream! ! As always, she walks the red carpet with grace and glamor to spare! Yes! SJR sees a star on the Walk of Fame is in Linch's future…soon enough Stay tuned! 😀
For Jennifer's complete filmography, check her out on IMDb!
For more beautiful photos, "Like" Jennifer Linch on Facebook!
Follow Jennifer on Twitter @JenniferLinch for the latest updates!
For bonus videos and more, subscribe to Jennifer on Youtube!
For a portfolio of photos not to miss, follow Jennier on Instagram too!
For everything Jennifer Linch on Space Jockey Reviews, click here!
You may also like these!