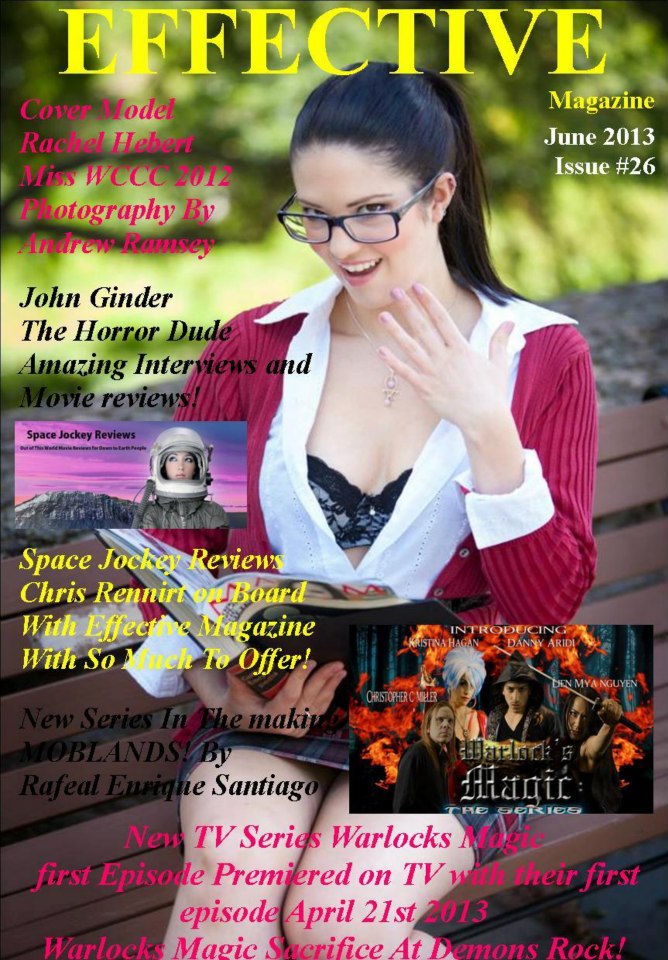 Okay, here it is!  It's the magazine you need; the magazine you'll love, and the magazine that will entertain as well as inform.  Effective Magazine was founded January 2010 by actress, model, and producer Lien Mya Nguyen (our very own Space Jockey Mya too) with a mission to help the well deserving break through in the industry, beyond "the surly bonds of Earth."  To where?   Hopefully, to somewhere beyond the stratosphere to the planets and galaxies beyond.  Knowing how tough it can be to fight gravity, Nguyen started Effective Magazine as a way to boost the best to the forefront of watchful eyes everywhere–to, as we say at Space Jockey Reviews, the eyes of "humans and aliens alike."
Effective Magazine is a free online magazine (published quarterly) that features models, actors, directors, interviews, movie reviews, and more. In short, it includes a long list of everything in the entertainment industry.  Speaking of interviews and movie reviews, Effective Magazine features a stellar showcase to see; on board is all the best from writer's including Space Jockey Reviews' Editor in Chief Chris Rennirt, movie reviewer and writer Kennie Combs Jr. (aka Doc Hollyweird), and reviewer and interviewer John Horrordude Ginder (Editor in Chief of A Horror-fying Blog)!  Also a part of the magazine is Ray Tarrant of Ray Tarrant Photograhphy; of course, what would a great magazine be without great photographers?  Yes, with a star-studded crew like this, Effective Magazine leaves no page unturned!  For starters (and picture proof), take a look at the cosmic cover of the June 2013 issue above!  And, whatever you do, stay tuned.  With Mya, there's always sure to be more! 😀
For a chance at being featured in Effective Magazine, email Lien Mya Nguyen at Lienmya@gmail.com.  A rocket-fueled ride to the future could start right here!
For more information about Effective Magazine, visit the official website!
"Like" Effective Magazine on Facebook, and "share" it with a friend!
Check out Effective Magazine's founder, Lien Mya Nguyen, on Facebook!
And, be sure to visit the "Movie Reviews" page and see Space Jockey Reviews!
You may also like these!