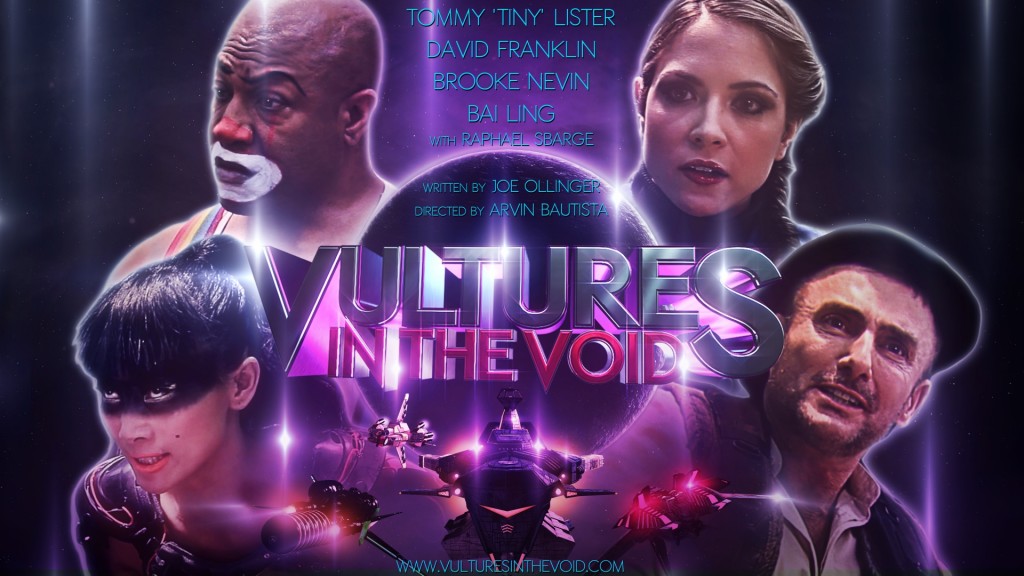 Calling all Space Jockeys and seekers of stellar entertainment! Vultures in the Void has arrived, making electrons and subatomic particles spin faster at Space Jockey Reviews! What's all the added spin about? For starters, this science fiction short film stars SJR favorite Bai Ling (The Crow, Sky Captain and the World of Tomorrow) as the sexy and dangerous space pirate Deadspeed! We could stop there but, of course, with a cast including Tommy "Tiny" Lister (Fifth Element, The Dark Knight), David Franklin (Farscape, The Matrix Reloaded), Brooke Nevin (Breakout Kings, Chicago Fire), and Raphael Sbarge (Mass Effect, Once Upon a Time) we must go on. Topping it off, Vultures in the Void is written by Joe Ollinger and directed by Arvin Bautista, from Greasy Pig Studios.
What's it all about? A lot more than you'd think in a mere 15 minutes! A convoy escorting a Consortium freighter carrying precious cargo is ambushed in the shipping route K-E 41 (aka the Kerwin Oort Cloud Disputed Zone). As it turns out, Consortium pilot Sunset Bismark (Brooke Nevin) and space pirate Lucky Mike (David Franklin) are in on it together. It would've been so simple, if not for the arrival of two more cutthroats, Deadspeed (Bai Ling) and her sidekick Space Clown (Tiny Lister). Now, everyone wants their piece of deep-space booty. But wait, warns Sunset Bismark, "When a Consortium freighter is damaged, a distress signal goes out…automatically." With backup en route, and backs to be stabbed, who will take the bounty? What happens when three greedy space pirates are after one freighter carrying the cargo? Explosive results are sure to follow…at least!
Less than twelve minutes, Lucky…ticking down quick. ~ Sunset Bismark
Director Arvin Bautista tells Space Jockey Reviews that SJR favorite Bai Ling "was a huge pleasure to work with and put a lot of thought on the character, even collaborating on the script to flesh Deadspeed out even more." He adds that the film was "shot it in 2012, and it took two years to do the visual effects."
Vultures in the Void is a fun, humorous, warp-speed ride through a slice of life moment somewhere in space. To an unsavory assemblage of scoundrels, willing to kill their mother if necessary, is added an ironic love triangle that could lead anywhere. (And, yes, in space, the possibilities are infinite.) Fifteen minutes of short film here packs enough nuclear fuel to ignite nearby hydrogen, easily. Could we be talking about the birth of a star? With Bai Ling alone, certainly so! What's more is the cliffhanger ending of Vultures in the Void, leaving much more story to tell, even suggesting a series in the works (we'll keep our fingers crossed for that). With four cutthroats poised to betray one another, and a battle ahead, SJR radar is searching for at least a sequel already! In the meantime, check out Vultures in the Void below!
Vultures in the Void was an official selection at the 2014 Filmquest Film Festival!
"Like" Vultures in the Void on Facbook!
Check out all the latest on the official Vultures in the Void website!
For more great work from Arvin Bautista, visit Greasy Pig Studios!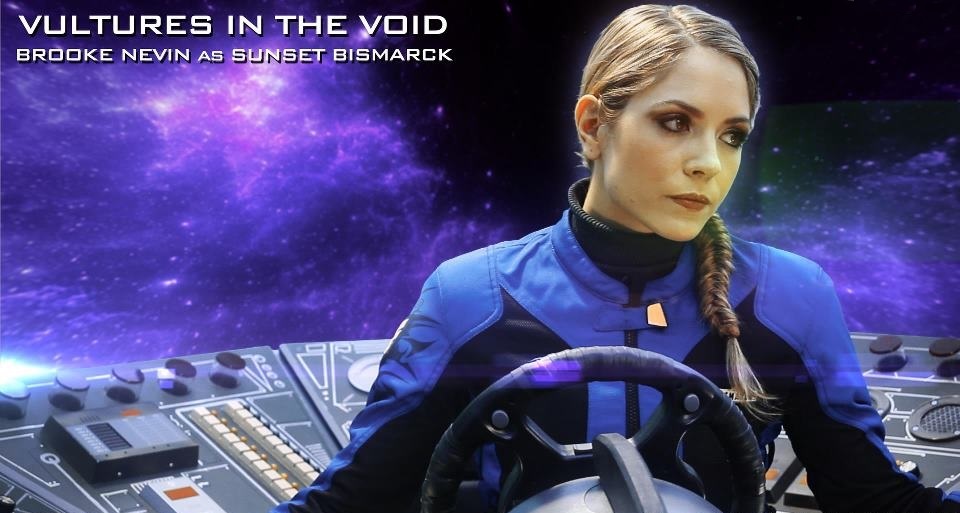 You may also like these!