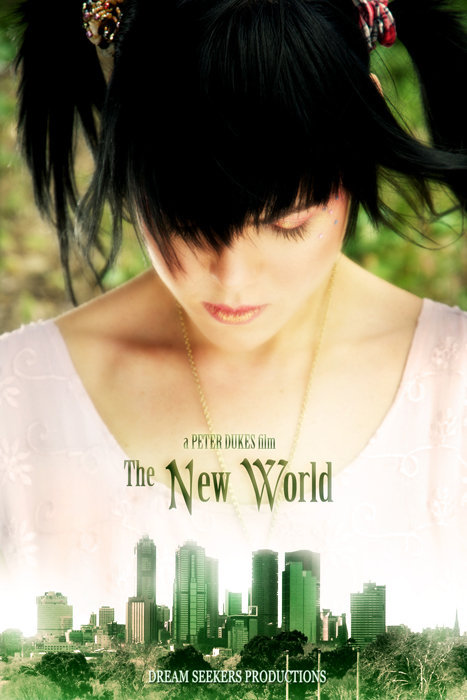 A camera pans through an idyllic hillside that could be anywhere, focusing us, eventually, on a particular, but not unusual tree.  Yes, this could be any tree and anywhere but, soon enough, we see that it's not.  A hand reaches out, into the sunshine, to explore.  A pig-tailed girl follows, emerging horizontally from the tree, as if being born from it; she crawls across the ground, like a baby in a strange new world, marveling at all there is to see.
Already, we sense this isn't a reality we know—at least not totally.  Maybe it's even fantasy; we can't be sure yet.  However, in not knowing, and being curious along with the girl, we've experienced our first true interactive joy in The New World—a short film from director Peter Dukes and Dream Seekers Productions.
The girl wanders bright-eyed, curious, and amazed, like a child away from her parents, through the woods, onto a hillside, and into a field, into places very much in the world we know.  Here, the questions make The New World even newer and yes, more interesting, indeed!  Could this be fantasy within reality…or, perhaps, reality within fantasy—if there is even a difference.  Are you interested yet?  Of course you are!  Add to this the next event, and you're easily hooked!
Of all of the films by Dream Seekers Productions, why was The New World the first I chose for review, you may ask.  The answer is simple; it is also the reason that I enjoyed the film from beginning to end.  I am, among many things, a very visual person.  Even as the impartial movie reviewer I endeavor to be, I cannot help but be captivated by what is compelling…on impulse. The New World, indeed, presented many compelling visuals to capture me in its first short minute of viewing—bright colors, beautiful, natural scenery, a smooth flow, an intriguing story from the start, and yes…a girl crawling out of a tree!  Most of all, the latter hatched a question that committed me easily to its just-over ten minutes of running time.  Although I may not need to say more, I will.
What is more, you ask? The music is more—a lot more actually! The music fit perfectly with the fantasy-themed, awe-inspired tone of the film and behavior of our main character, exploring her newfound world. Yes, it was light, airy, vibrant, and curious, making the viewer wonder about everything, right along with the mysterious girl from the tree. Any other soundtrack for this film would have weakened its effect, despite the best achievements with visuals and acting.  A great choice indeed, and kudos to Michael S. Patterson for a great score!
And what about the actress, you ask—the "Wandering Fairy" who emerges from the tree, explores The New World, and makes the movie the success it is? Her name is Katy Townsend! And yes, she makes the movie what it is for sure! Townsend is a Scottish actress, writer and voice over artist hailing from Glasgow, UK.  Remember her name, as I'm sure we'll all be seeing Katy Townsend soon enough in many more films to come.
How does Townsend make the film a success, single-handedly as it is, especially in a movie with no dialogue? The answer is easy, but the talent is complex. Townsend, quite simply, has the ability to show the emotions necessary to be convincing and believable, all without a single word, using only her face and skillful fluid movements of her body.  Her expressions, her eyes, and gestures all show us that she is, indeed, the "Wandering Fairy" she is named, discovering, for the first time, all that amazes her, reacting perfectly to it. Wide-eyed awe, joy, curiosity, and longing are all read on Townsend's face, as well as it could be written in a book!  (The playful look on her face as she first walks, as if sneaking away from the tree, is priceless!)  She is a true joy to watch!  With her pig-tails and pixie appearance, she steals the show in every scene, even with the beauty of the world all around her!  Watching Townsend is like watching a dance, choreographed perfectly to the music of her mood.  See the film, and you'll see what I mean.  With this performance, Space Jockey Reviews has the radar out for all that Townsend does in the future–and we expect that to be a lot!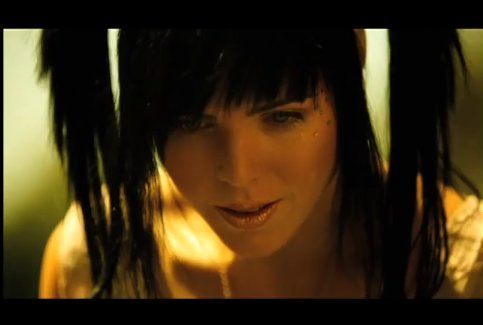 Who is the Wandering Fairy? Where did she come from? Is she here or in some dimension between here and there?  Will she go back to where she came from, or will she stay in our world?  Will there be others to follow, where she came from?  If so, how might they change our world?  Those are all good questions I won't begin to answer in this review.  Actually, I won't even tell you if those questions are answered at all.  I wouldn't want to spoil the thrill of a ten-minute film that offers so much for everyone to vicariously discover, as participant as much as a viewer. You'll have to watch it yourself; but, the good news is that, before the first minute is over, you'll have lost track of time anyway.  And that's a good thing!  It's only the best of movies that make us forget about checking our watches; The New World is one that does that…easily!
Director Peter Dukes and Dream Seekers Productions have created a magical short film that delivers beautiful images and indelible effects; as a novel approach, it could even be called a fairy tale for fairies…rather than one for humans (and again, I'll let you discover the reasons for that).  A great story, a smooth flow, an intelligent message, and unique special effects (I'm thinking of a boy suspended in time, while swinging) are just some of the extras that bring The New World to life, setting it well above the high mark.  With so much going for it, this is a film that Space Jockey Reviews can recommend to all audiences, rather than some. Like a true Dream Seeker, all you need is imagination, a desire to dream, and a will to create…interpretations, at least, for a film that offers much to consider. Yes, that about includes everyone; so, waste no time in checking it out!  Besides dreaming, imagining, and creating, there are few better things you could spend ten minutes doing.  With The New World, you get all of that and a great movie too!
The final great news about The New World is that you won't have to do any work seeking it out, as I've already done that for you below.  So, sit back and watch it; and, above all, enjoy!  Inside the most unlikely, unknown places—or the most common of places you know—could be a whole new world yet to discover!  Who knows from what places the people you know have come?  Who knows where you may go?  Open your eyes…and dream!
_________________________________________________________________________
Look for the interview with Katy Townsend coming soon to Space Jockey Reviews!
Visit Katy's official website!
Follow Katy–@thecheekyscot–on Twitter!
For the best of imagination, be sure to visit Dream Seekers Productions!
The New World is directed by Peter Dukes, Produced by Dream Seekers Productions, Starring Katy Townsend, Elyse Ashton, Leigh Davis, Aubrey Dickinson, Jocelyn Aguilar, Will Rian, Matthew Thomas Lange, Larry Karman, Julia Putnam, Donna Corder, Hayden Dukes, Patrick Frericks, Eric Frasier, and Michele Williams, Assistant Director/Special FX Artist Aubrey Dukes, Director of Photography Rob Witt, 1st Assistant Camera Stephen Marshall, Make-up Artist Octavio, Costume Designer Tara Leigh, Composer Michael S. Patterson, Still Photographer Robert Larson, with Catering by Jill Dukes (Debbi Lee Catering).
For a description of Rocket Rating 9, click on the Rocket Meter above!
You may also like these!