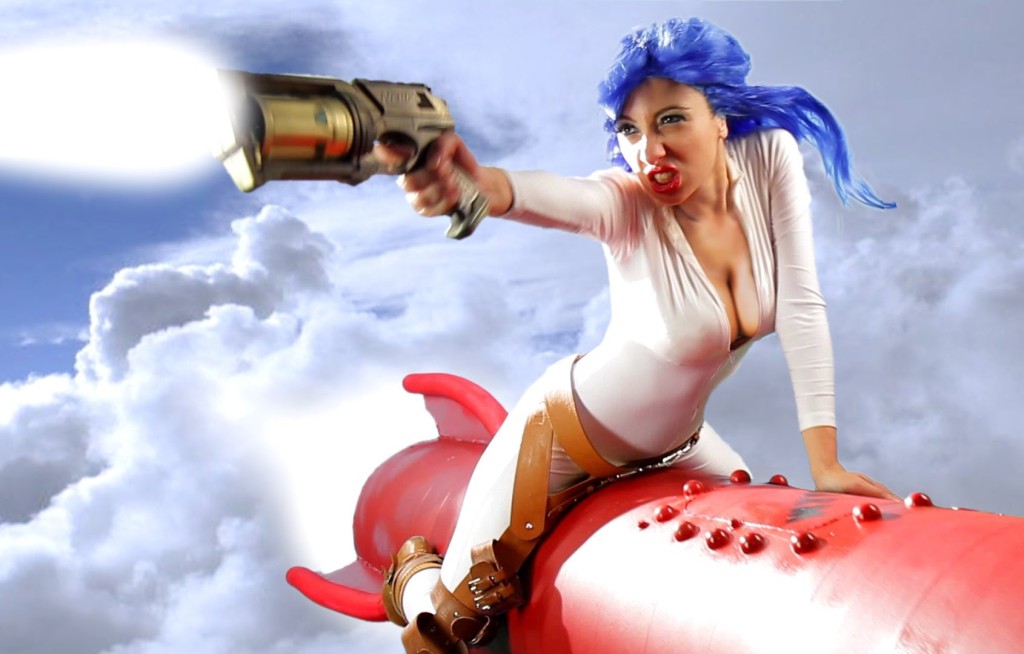 …5…4…3…2…1…0
Space Girl Comes to Solar Systems Near You!
Coming at us with the biggest bang yet, sending shock waves across light years is Space Girl (aka Lauren Franscesca)! A rocket-fueled ride in a runaway universe causes g-force climax at liftoff; octopus aliens, a neurotic computer, stuffed animals in danger, and more are what's in store, with inertial trajectories perpetual. The galactic girl's adventures rival the best in Buck Rogers serials, adding fresh adventures to cosmic chaos; going where no one has gone before, she needs no man or crew.
Our buxom beauty from beyond is a black hole of female force, a solar flare of fantasy, and a true Barbarella for the times. Will she save the scrunchy wunchy or choose, instead, the poop-eating Sluggulons, who, worse yet, eat their own poop! Yes! With Space Girl at the helm, poop eaters are protected, oversexed computers can be serviced, and disembodied heads can't rule the world. Captain Kirk, beam yourself up, and get out of the way! Space Girl is here, with ray gun six shooters and more! Let the countdown begin!
"Your guidance system is breaking down!" ~ Space Girl

"Well, maybe if you took some time to warm up my engines, instead of ramming the clutch and gunning it all the time!" ~ The Ship's On-Board Computer
In the first episode, Space Girl is under attack but her ship refuses to be abandoned!
Will Space Girl escape Dr. Brain's tentacled trap in Episode 2! Click here!
See Space Girl's rocket-riding finale, in Episode 3! Will she save the Sluggulons?
Check out Lauren Francesca's Official Website at LaurenFrancesca.com!
Follow Lauren Francesca (aka Space Girl) on Twitter @laurenfrancesca!
Space Girl is brought to you by the creative genius of Barely Political! Check out more Barely Political videos on their Youtube Channel today!
For all the latest, also follow Barely political on Twitter!
You may also like these!