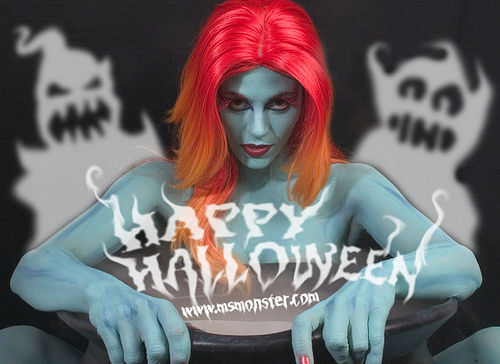 No, it's not Halloween, but, who cares? When Ms. Monster's the feature, it's "Happy Halloween" every day! No, you'll never forget her, after seeing her just once! "What's to remember? What's not to forget? Lots! Take a look, and you'll see!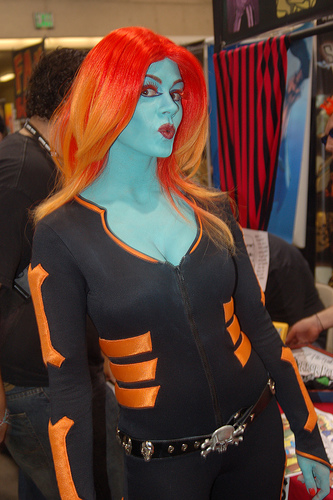 "Who is Ms. Monster?" you ask, if don't already know. She's the one-and-only blue-skinned beauty and queen of camp, with attitude as fiery as her flame-red hair!  Stopping (and attracting) ghastly ghouls and earthbound humans galore is what she does with ease to please–reanimating even corpses, as stiff as they come!
"Is that all?" you ask. Not even close! Ms. Monster's two monster melons, Tit and Tat, round off a twosome of treats you simply can't beat. To hers, others simply take a back seat.  "Is this combination of cantaloupes complete?" you ask. The answer, quite quickly, is "Yes, absolutely!" Yes! Your attention will be detained, without even the urge to complain! And the ever-quotable Borg are yet quoted again. When melons are so memorable, "resistance is…futile"! (No, we can't do alliteration forever, although Dr. Suess might think us clever.) 😀
So, check out, if you dare, the video below that happens to be (by no mere chance) my favorite of all! "What is it about this particular one you ask?" (as I imagine you care). If you must know, it must be the hair! Yes, a light-speed second thought says "Yes, indeed!" It's the hotness of her hair, here tossled atop her too-hot self, starring her royal heinous of Halloween–the voluptuous vixen herself, A.K. Smith (aka Ms. Monster)! So, sit back and relax (if you can). Enjoy Ms. Monster and her melons, as she presents a thrill that never gets old–her "HEL-LOWEEN Tips & Tricks"! Yes every day is Halloween with Ms. Monster!
Follow Ms. Monster on Twitter!
Visit and "Like" Ms. Monster's Facebook Page!
Check out Ms. Monster's Youtube Channel and see all of her fantastic videos!
Don't miss Ms. Monster's official website at www.msmonster.com–a must-see hangout, with videos, autographs, posters, photos, and more!
You may also like these!