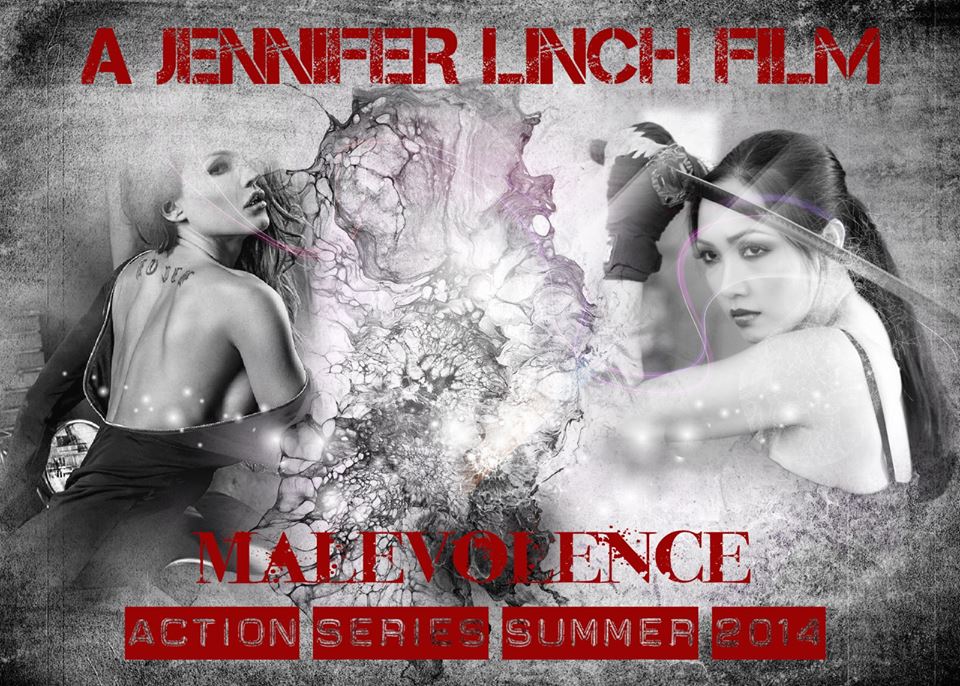 Fuel the rockets, and start the countdown, again! Deep space transmissions have arrived from actress, producer, director, and writer Jennifer Linch! "What are these code-red communiques?" you ask. Strap on your seatbelts! Encrypted codes reveal a copy of her latest film series in production—Malevolence—exclusively for Space Jockey Reviews. On our star scale, few events come even close to this! Reviewing Jennifer's script is an honor all ours! …5…4…3…2…1…0
"What's it all about?" you ask. Answering to the limits of top-secret clearance, let's begin with the beautiful main character, Lily. (Yes! Her beauty is no secret, because the part is played by Jennifer Linch!) Who plays the young Lilly is not mentioned, but, with her is where the story begins. As a ten-year-old, she sees her parents brutally murdered. In captivity, over years, she is beaten, traumatized, and trained to kill. The once innocent child is innocent no longer, and revenge, at any cost, is all she knows.
In a recent interview, Linch said she wants to be the first female director of an awesome "bloody, violent action movie," and she means it! Lily's mission—malevolence–is the name of the movie as well, in every way. However, she does more than wish evil on others and think of it passively; she delivers it, personally, with lethal results. For Lily, heads are souvenirs, dispensing pain is pleasure, and revenge is brutal and surely "bloody." Anyone who cuts off heads with a knife, making it "laborious" is, indeed, enjoying it; Lily does it all with a smile on her face, ready for more!
Of course, no tale of ruthless revenge would work without a villain to end all villains. Entering into Malevolence is arch badass and cult ringleader Hunter Hemlock (aka The Emperor), played by actor John Paul Ouvrier. Hemlock (as the poisonous name suggests) is debonair but deadly; he can break bones with a handshake and humble men with a glance, all while playing a round of golf! Hobbling men with a snap (of the fingers, that is) is also easy with the help of his henchmen, King Viper and Enforcer (Apollo Askew). Yes! As for characters defined by names, Malevolence is loaded; here, they are defined by generic but powerful bad-guy monikers and refined by their actions.
Yes, Lily is small; but size doesn't matter with martial arts, and Lily is a master! A photographic memory doesn't hurt either; yes, Lily has that too. Learning from her enemies only makes her stronger. She becomes what she hates, all the better to kill them. Yes, bad guys beware! You never know what hurt and vengeance that little girl will be when she's all grown up–with a knife that cuts through necks, no less! Our high-kick anti-heroine, Lily, has arrived! What's more is that Lily has her own henchman as well—the mysterious Adrian Gray (Dustin Stern-Garcia)—who evokes her benevolence, or at least the vestiges that remain. Yes! Is there hope for her humanness after all? Only the series will tell!
Another bonus, found on the movie's IMDb page, and sure to show up somewhere in the series, is the of the beautiful Julia Tyson Gilas in the cast. Gilas plays a femme fatale with another poisonous moniker–Nightshade (and deadly, as well, no doubt)! No, there can never be enough beautiful babes kicking butt, so bring on the extras! As of now, no further details about Nightshade are known, but transmissions at SJR are being monitored for more! 😀
As for camera angles, panning, and points of view in the script, Malevolence tells the story with a style of its own, being artful as much as violent and bloody. The camera lingers on "flowing" hair, shows silhouettes in sunset, while "calm, deadly, excitement" splashes blood across faces. The script is easy on the imagination, painting its picture there with equal potential for the screen. Simple details on paper are eloquently penned in the mind; but a skilled director, as well as the mind, can certainly make words come to life. With Linch's determination and vision, SJR sees success.
Why were Lily's parents murdered? How many heinous henchmen will lose their heads? How much blood will spill, before it's over? Is Hunter Hemlock as bad in battle as he is with a handshake? Who is the mysterious Adrien, and what are his connections to Lily? Does Lily love anyone, or can she only hate? Will Lily's hunger for blood end, when the last villain falls? These are questions yet to be answered in the Malevolence series, and the first episode makes us want the answers. Space Jockey Reviews will be looking for answers too, as we lay in a course for Malevolence. Stay tuned for all the latest!
Always upbeat, energetic, and optimistic, Linch's attitude is best described with her quote: "If you want to surf but you don't know how to look for and catch the waves, you should sit on the beach and watch and wish that someday you will know how to surf. Malevolence is already making waves here in San Diego and soon will collide with much bigger waves. Miss it, won't get to ride it to the shore." Whether by surfboard, rocket, jet pack, or something else, get ready! Jennifer's wave—Malevolence: The Series—is on its way!
Follow Jennifer Linch on Facebook!
"Like" Jennifer Linch on Facebook!
Check out Jennifer Linch on IMDb!
Subscribe to Jennifer on Youtube, for bonus videos, and more!
For all the latest, "Like" Malevolence on Facebook!
John Paul Ouvrier interviews Jennifer Linch on SJR! Don't miss it!
Finally, don't miss Jennifer's official trailer for Malevolence!
You may also like these!