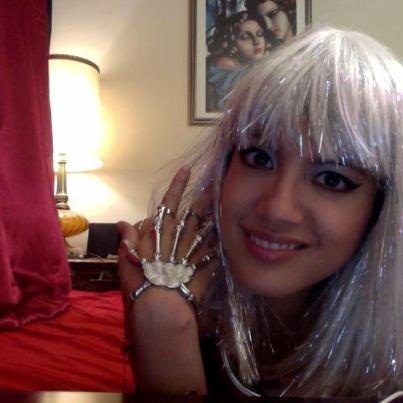 A time-traveling Jill Kill makes Jill an honorary Space Jockey as sure as there's an event horizon surrounding a quantum singularity at the center of the galaxy. Okay, well, even though the quantum singularity is all theoretical, there's really nothing theoretical about Jill Kill as a Space Jockey worthy vixen of video and radiant reviews. Light years ahead of us all, Jill is always at the forefront of time and space, reviewing everything that matters with bold and beautiful opulence to spare. What's more here (as if that's not enough) is Jill's shining silver hair and hand bling, killing time to catch up with the future of film for herself and all of us!
In Jill's latest review, she tells us why she so loves the new sci-fi film, Looper. She calls it "The best sci-fi/time-travel story I've seen in a long time!"  If that's still not enough (although it surely is), Jill launches rockets at Space Jockey Reviews with mere mention of a sci-fi novel she wrote — Nymph: The Singularity. (Could this be a quantum singularity, appearing by fate or coincidence again?). Anyway, after I say it's about "sex robots", don't waste an atomic-clock second getting over to Amazon Kindle to buy a copy for the unbelievably low price of just 99 cents! Yes, you read that right: "sex robots" and "99 cents" all in the same sentence! As Jill says, "If you like the idea of glamorous, futuristic worlds, and you like the idea of maybe owning your own custom sex robot at some point in the future, you should read my book." Yes, it's a cautionary tale for sure, complete with an Orwellian, hand-slapping lesson, no doubt! However, proceed without caution to get your copy, as it's sure to be worth the danger! This Space Jockey will be sure place it on the launch pad, before mission control even starts the countdown. A full review of the novel may even be in the works! Who knows? Far smaller things than this cosmic event has caused me to review art forms other than movies! At Space Jockey Reviews, infinity is the limit!
Here's a little more about Nymph: The Singularity:
"What if you could buy the perfect lover built just for you — would you be willing to pay the price?

Not long from now, an intelligent android will be invented that is completely indistinguishable from human. The brand name for this type of robot will be "Nymph", and their purpose will be to provide their owners with sexual pleasure. Suzanne is one of the first of this exciting new species. She doesn't simulate love for her owner Alex or feign sexual pleasure when she's with him — her emotions are very real, and her love for her owner will never die until the day he does. But Alex doesn't recognize Suzanne as the extraordinary miracle of art and programming that she is — he's too unnerved by her calculating behavior and haunted by memories of the past.

Luckily Suzanne meets a male Nymph named Jules, an exact replica of his closeted homosexual owner (who's also a famous movie star). Jules shows Suzanne the possibilities beyond the limits of her programming — and gives her illegal upgrades that conflict with her loyalty, until she doesn't know who she is or who she's supposed to love. Jules also introduces her to the Harlots — a Marilyn Monroe-look-alike, a synthetic doppelganger for silent film star Louise Brooks, and a Nymphet that answers to the name Lolita. These three Harlots live without human owners and without love — and though Jules promises to teach Suzanne how she can live the same way, he doesn't realize that he's falling in love with her.

Suzanne has to choose between her love and loyalty to her owner, and the new desires Jules has awakened inside her — and meanwhile her human owner has to decide if he's going to allow his past to undermine his future."
Without further adulation or teasing, I'll turn this over to Jill Kill herself, reviewing the "Killer" rated movie, Looper! Enjoy! 😀
Check out Jill's superstellar website by clicking here!
Visit Jill's Twitter page by clicking here!
See Jill's Facebook page by clicking here!
Be dazzled by Jill's Tumblr by clicking here!
Buy and read Jill's novel Nymph: The Singularity at Amazon Kindle!
Subscribe to Jill's Youtube Channel–one subscription you'll never regret!
…and of course, could this post be complete without the trailer for Looper? Of course not. So, here it is!
Leave a comment, and name your favorite sci-fi time travel story of all time?

You may also like these!