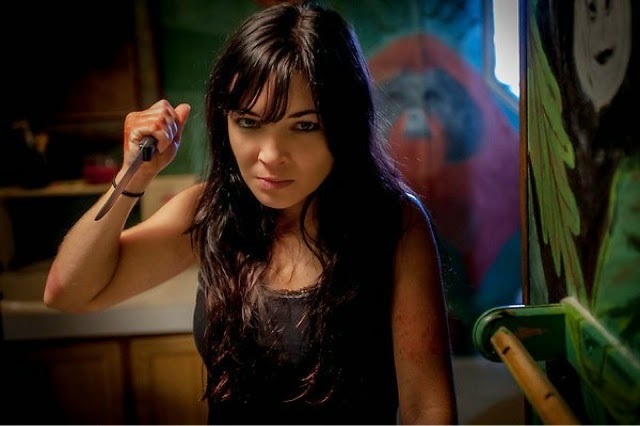 Fuel the rockets and start the countdown! SGL Entertainment has acquired Intrusion and Intrusion Disconnected, starring SJR favorite Katie Stewart (Overtime, Revelation Trail), returning in her role as the knife-wielding Holly Jensen. Others featured in one or both of the films include Lee Haycraft, Sebrina Scott, Tiffany Shepis, and Corey Feldman (appearing in Intrusion Disconnected, as well as other classics such as The Lost Boys and Goonies). The first film, Intrusion (2008), will also be released by SGL in HD. For more, read the official SGL press release at www.sglmoviestore.com.
What's the storyline for Intrusion? "Holly Jensen leads an overly dramatic life. It's one that is spent trying to avoid her problems and forget the past. Best friend Kali has the perfect solution to making Holly feel better. It's a game called 'Wrong Number.' However, the man on the other end finds the joke less than funny and decides to play a game of his own–a game where Holly will become the pawn. It's a character-driven thriller where everything has consequences, and something as beautiful as a rose can be turned into any woman's worst nightmare." ~ IMDb
What about Intrusion: Disconnected? "Nearly a year after the events of Intrusion, the mysterious death of the Rosebud Killer leaves questions unresolved. Now, with the body count rising once again and Holly's mental stability slipping, she claims the killer is still alive." ~ Craig Everett Earl
You may also like these!