How many times have you driven down the road, listening to your favorite song, and suddenly couldn't find something you need. Worse yet, you realized it was lost?  Too many times to count is the answer from most of us.  Anything from a prized pen to a pair of favorite sunglasses missing is enough to stop the car (and the world) for the most materially-possessed, albeit typical travelers among us. That's exactly the common event that opens director/writer Karen Lam's short film Doll Parts, immediately normalizing our anonymous main character. We think, with a shared scenario, that he's just like the rest of us; we think we know him. But, is our mundane motorist as ordinary as he seems? Since this is a horror film, maybe not!
What's more? Lots! A beautiful young hitchhiker on the side of the road, thumbing for a ride, seen by our mystery male is just the suspense we need to alarm the subconscious. She's thin, shivering, visibly in need, and, for the sake of classic temptation, even blond. We know that, in horror films, these things never work out in normal ways, and rarely do they have happy endings. We know that such women are mostly horror-film fodder the world over. Yes! Our subconscious tells us that she's better off shivering on the side of the road.
Just as you're thinking, "I know the story now; I've seen it a thousand times," think again.  Director Karen Lamb has crafted a film that defies your cliched expectations not once but multiple times. What's more is that it's done in a most inventive way, defying the best guesses from the mind, all in under 10 minutes! Our would-be victim may be much more than she seems! A feminine façade could be all that's familiar.
The hapless hitchhiker is played perfectly by actress Sarah Lind. She is detached but calculating, cold literally as well as figuratively. Although she never says a word with her mouth, her expressions and actions speak volumes. The best actors are those who can emote and telegraph feelings and foreboding thoughts with their face and eyes alone. Lind is just such an actress who does that, connecting concisely with the ominous expectations we have. Her character (we find in the credits named Evangeline) is frail, vulnerable, and desperate, but somehow, in her silence, more dangerous than anything she could encounter thumbing for a ride. Is our man of the moment really so lucky as he thinks?
Special effects? Doll Parts utilizes effects that are CGI and practical, enhancing the movie without exception. Computer-generated images are realistic and rich, adding life to the story, while ironically heralding omens of death. While cyber effects in indie films (as well as some Hollywood productions) are often shallow and unconvincing, what we have in Doll Parts are believable, sustaining the story.
The motorist (named only in the credits as Edward) is, even in his ultimate uniqueness, everything required for his banal beginnings. Like a Ted Bundy, he even looks normal, making him all the more harmless to the senses. Yes! Edward (played by David Lewis) portrays someone we identify with at first, descending into something we distance ourselves from later; he is an unsettling reminder of how much we are, in common ways, identical to the worst among us. No, we don't like to resemble the villains at all, but Edward is like us too much for comfort–a warning sign only to the wise. Where exactly does Edward's descent take us? What does he do that is so abnormal, despite his appearance? Is the abyss of the human condition deep enough for Edward? Only Doll Parts will answer that! And, like a lifeless doll, my lips are sealed!
As for the compelling origin of Doll Parts, Karen Lam says it better than I ever could: "The idea for Doll Parts came from the last visit I had with my late grandmother in Hong Kong.
Every evening, lying wide awake from jet lag, I could hear my grandma arguing with some unseen presence in the next room, speaking a dialect from her childhood that I didn't recognize. And every morning, I would head downstairs for a bowl of congee, armed with a book of Neil Gaiman-edited short stories. One in particular caught my attention: Catch and Release by Lawrence Block, which featured a serial killer who would catch and "release" female hitchhikers.
Between the heat and emotional exhaustion, my mood veered quickly downhill as I stewed about the story. Why are women always being killed by psychopathic nut jobs? And why are the killers always written as heroes? It's hard not to be angry about the sheer number of women that go missing or are murdered, particularly when you live in Vancouver.
Given that I only write when I'm angry or bitter, Doll Parts was practically created in that moment. For me, this is a film that considers the nature of victims and heroes, inspired as much by the missing women along the Highway of Tears as by the Asian demons of the underworld."
All I wanted after watching Doll Parts is the biggest compliment I can give a movie; I wanted to see more! Fortunately, with Lam's feature film Evangeline, we'll all get to see exactly that–more! The only details available so far are those currently on IMDb: "A naive university student, Evangeline, is brutalized by a gang of thrill seeking killers. Left to die in the forest, she is 'saved' by an ancient demon spirit. The spirit empowers Evangeline with a blood-lust for vengeance. Evangeline must make a choice, is she willing to sacrifice her own soul…" ~ Written by Anonymous. With a short film like Doll Parts and a feature followup like Evangeline, who wouldn't plan on seeing both? In all of my fondness for Doll Parts, I say no one.
Doll Parts is a short ride to big thrills, down roads rarely traveled. With Lam at the wheel, viewers hitchhike to heights of horror not seen, to places beyond nightmares; the destination is a place even monsters among us fear most. Doll Parts kicks serial killer butt, turning the genre on its head, cracking cinema clichés. A secretive psyche, esoteric and buried, comes forth, with power, reminding us of things we prefer to forget. Unfolding is a story hurdling a high-bar of mystery and fear forsaken in films multiple times its length. Yes! Just when you think you've seen it all, you haven't; things are not as they seem. So, in cuddling up with this doll, be cautious! The proverbial wolves in sheep's clothing are out there, sometimes all the better for the wolves…and all of us as well! 😀
"On Karen lamb's filmmaking: 'A meticulous emotional meat-grinder, genuinely redolent with directorial horror film prowess. Nicholas Roeg meets Ted Bundy.'" – John Skipp, Bizarro Central
Doll Parts has been invited to over 36 international film festivals since its completion and has won Best Story (Tulsa Underground Horror Festival) Best Director (HorrorQuest), Best Horror Short (Midnight Black International Film Festival), and Best Horror Short (Creative Arts Film Festival).
For all the latest, visit Karen Lam's official website at www.karenlamfilms.com
Follow Karen Lam on Twitter at https://twitter.com/opiatepix!
Check out Karen's opiatepix youtube channel at www.youtube.com/user/opiatepix!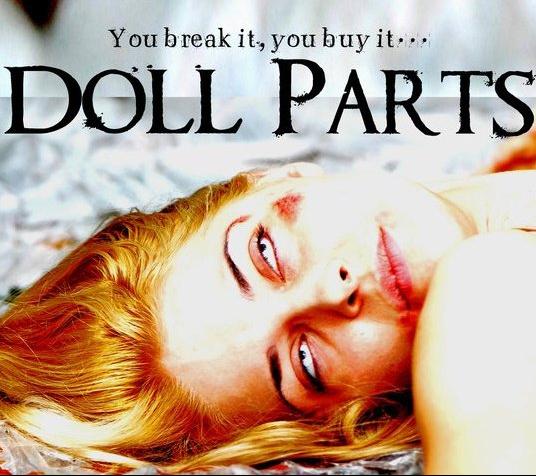 Check out the Doll Parts trailer below!
For more of the Doll Parts story you'll want to see, check out the trailer for Karen Lam's feature film Evangeline! Also, check Space Jockey Reviews for all the latest Evangeline news, release dates, and more!

Visit the official Evangeline movie website at www.evangelinefilm.com!
You may also like these!