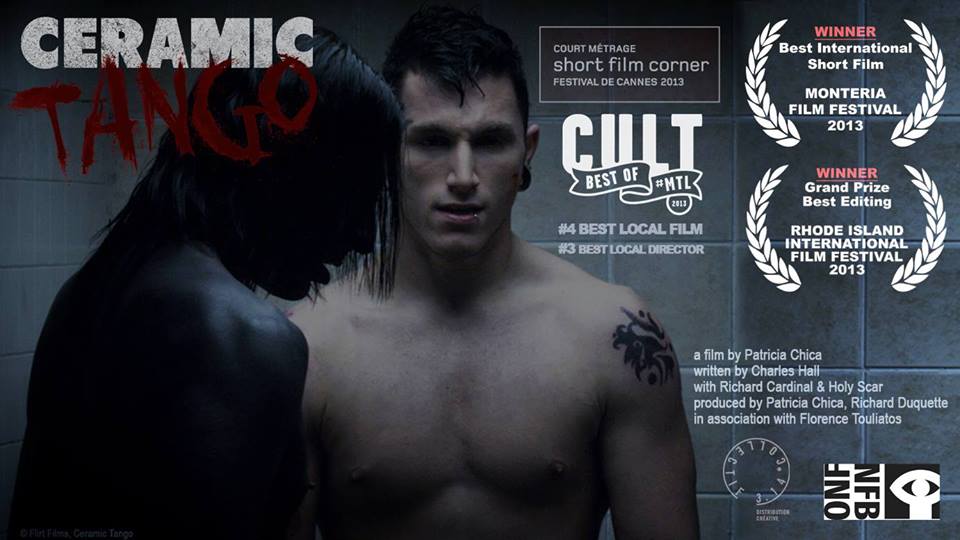 "Maybe the person that you fear most in your life right now…is you!"
Some horror films scare us by tapping our imagination, making us believe somehow, if they are good enough, the unbelievable—struggling, at best, to maintain the fantasy. The scariest of horror is scary instead because it is genuine; it hits us hard and brutally, with the worst, most horrific possibilities in real life; it assaults us mentally and physically with what could happen to anyone, at any time, with one wrong move or a single careless choice.  Yes!  All precious gems of horror haunt us with the danger around every corner, in the most familiar places, but, with us beyond rescue.  Ceramic Tango, the gritty, mind-molesting short by director/producer Patricia Chica, falls squarely and solidly like the ceramic tile of its metaphor, within the gut of horror-loving cinemaphiles everywhere—especially those starved for something fresh.  For the jaded hungry among us, Ceramic Tango is a rare cut of bloody good meat!
A man in a dirty bathroom ready for a shower (yes, you read that right) could be any of us. Without his tattoos, body piercings and newfound curse, he could be typical, doing the most ordinary and mundane of things forgotten.  (Aren't we all the same beneath it all anyway?)  Soon enough, however—just as we expect in horror—things are even farther from mundane and ordinary…and nothing is easily forgotten.  The real is surreal; fear and fate are monsters, deadlier than fictitious fiends could ever be.  Memories of the past and visions of the future clash in the mind's eye, and within us as viewers, spying on a life in its greatest weakness–a life flowing down the toilet, metaphorically and literally, like urine being flushed.  Frenetic images, writhing in flashbacks, keep us confused and compelled, but uncomfortable as we figure it out—or so we think. Glimpses of sex become monstrous and grotesque rather than sensual; our voyeurism is morbid and addictive, but matches the moment–perfectly.  An exemplar of horror as a place and state of mind becomes required viewing here; we watch with dread and desire, however perverted the combination.
Entering into this–if the cryptic precursor isn't enough–is the deepest, literally darkest part of the human psyche or soul (you choose).The dirt on the walls and tiles literally mirrors the filth of the character's conscience. How does the filth of fear manifest itself here?  Where does it come from?  How does it affect the object of its origin, ultimately?  How will this affect you as a viewer?  These are questions I cannot (or will not) answer; but, there is one thing I will say.  They are ordinary questions that one man's mind answers in extraordinary ways, making the experience well worth your time.  I can also recommend that you see and feel Ceramic Tango for yourself; and, I can hope that your experience is always vicarious!  Therein, as Chica knows, lies the fear we feel…and such is the power of her filmmaking!
"I know you're scared, but you can't ignore me forever."
Director Patricia Chica has crafted ten taught minutes of more than efficiently-filmed happenings that stimulate the senses and peak curiosity. Through her vision we are compelled, easily, to see it through, without, even for a second, thinking of time.  Stream-of-consciousness editing moves fluidly and frenetically with the mind of the character, the motion of bodies writhing, mounting tension, and ultimately with the mind of the viewer. Ceramic Tango is total unity of humanness with denial, regret, visceral fear, and fate.
Ceramic Tango, written by Charles Hall,  has been awarded, already, with "Best International Short Film" at the Montreal Film Festival 2013, the grand prize for "Best Editing" at the Rhode Island International Film Festival 2013, a top four "Best Local Film" in the Montreal-based CULT Magazine, and (as produced and directed by Patricia Chica) a film by a top three "Best Local Filmmaker," again by CULT Magazine.  Space Jockey Reviews has no doubt that more awards will follow (if they haven't already).  Stay tuned for all the latest on Space Jockey Reviews!
The film stars Richard Cardinal, Holy Scar, and Jennifer May Walker.  Cardinal does a stand-out job, emerging as bold and memorable evil–possibly the harvester of death himself. Cardinal's shining performance resists the darkness of his character; he is anonymous but forceful as fear and dread personified, bringing as much life to the film as he does death to his victims.  Holy Scar is the Everyman of tattooed men; he is unnamed, but humanized, assaulted by reminders of death–death too far from the torment of knowing. Jennifer May Walker has the small but visually and audibly powerful roles of one of Holy Scars' lovers and, later, as the voice of an ironic 911 operator; she is mysterious and alluring, producing thought well beyond her screen time. An ultra-menacing score by Justin Lassen captures an eternity of hell in a ten-minute film; through Lassen, the downward spiral (or plummet) of human life is felt every second by the viewer, as much as by the movie's victim.
"Scream. Let it out. It won't change a thing."
Ceramic Tango is produced by Patricia Chica and Richard Duquette with Flirt Films, in collaboration with Forge Films and Florence Touliatos of Mascara & Popcorn. Yes, the movie's associated with the Space Jockey Reviews' favorite Mascara & Popcorn Film Festival—and mountains more than a favorite cinema snack does it, like the festival, offer!  The film is described in its own press info as "a modern-day cautionary tale that incites viewers to pause and think about the fragility of life."  And, oh how true it is, exponentially…with so much more than the modest statement suggests!  
Why do I like Ceramic Tango so much? Why does it shoot so many rockets from the launch pad at SJR? If all the above isn't enough, it's also for the reasons I love (but really hate) my worst nightmares.  Nothing but my own mind can create an ultimate terror for me, no matter how farfetched or close, making it somehow personal, real, and possible.  I know what scares me most, and my mind exploits me as I sleep. Ceramic Tango is just that sort of jailer of dysfunction—an ultimate terror-holder from dreams, releasing what's repressed in all of us…somewhere.  It's a movie that taps the source of innate fear we have of death–worse yet, an impending death handed to us here and now, with too much time to think about it. It's a film that hastens and highlights our impulsive, too-late-regretted desires for yet another slice of self-indulgence.  It's a unique nightmare carved in generous portions, from our innermost fears, greedy for everything dangerous! Ceramic Tango is like a dance on a slippery floor, landing us in places we try to avoid. Dance away my friend, but fear the fall!
For the latest Ceramic Tango updates, visit the movie's official website!
"Like" Ceramic Tango on Facebook!
Follow Patricia Chica on Twitter!
"Like" Patricia Chica on Facebook!
Be sure to visit Patricia Chica's official website!
Stay tuned to SJR for the latest Mascara & Popcorn Film Festival updates!
Check out the Ceramic Tango trailer below, and you won't want to miss the movie!
For a description of Rocket Rating 10, click on the Rocket Meter above!
You may also like these!