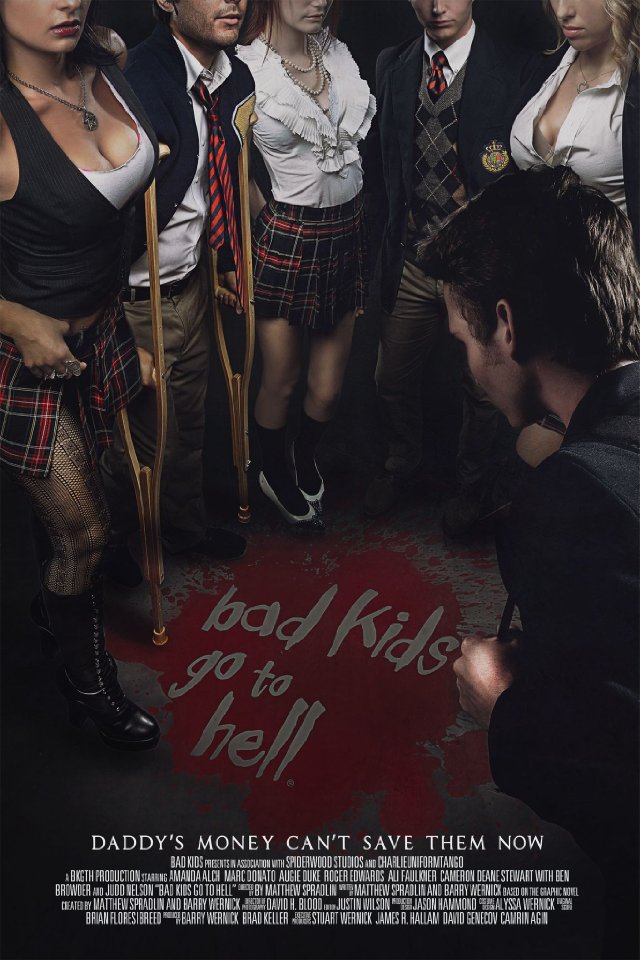 Bad Kids Go to Hell is a movie with a title that makes me plan on seeing it, no matter what! It has the right combination of things to get me hooked and spend my money–a powerful trailer, flashy characters, clashing personalities, great music, and yes again…a great title.  "Why is that such a great title?" you say.  Simple; it's gets your attention when others don't.  What's more is that the movie has a plot with serious potential to sustain interest!
"When you mix all of these personality types together, it's no wonder a few students succumb to fits of jealousy, rage, and paranoid delusion." ~ Bad Kids Go to Hell
"What's the plot?" you say.  It's a dark, sexy, comedy-thriller best described as "The Breakfast Club Meets The Grudge!" Six prep-school kids find themselves trapped in detention on a stormy Saturday afternoon. From there, the story is on a humorous, frenetic path of carnal chaos, mayhem, and, of course, murder! Is this a pissed off, hellbound kid seeking revenge? Or is it a supernatural tale of ghosts haunting and possessing to settle a score?  At this point, who knows?  Bad Kids Go to Hell is based on the best-selling indie comic book series/graphic novel of the same name, written by Matthew Spradlin.  Again, there's another good thing it has going for it; it's based on something that's already "best selling."  Best of all is that it's written and directed by none other than the creator of the graphic novel himself–Matthew Spradlin!
I have to admit that I already LOVE the trailer for Bad Kids Go to Hell, no matter how the movie turns out!  Other than the PROMETHEUS trailer, it's the the one I've most watched for any movie in recent times.  (And that's quite a big compliment, considering I've lost track of my PROMETHEUS viewings.)  "Why do you like the trailer so much?" you ask.  Well, again I'll refer to that perfect combination of things– intriguing scenes, awesome editing, dynamic movement, style to spare, and good-looking people–specifically babes!  (I actually can't decide which of the girls is best looking.)  Oh yes, and did I mention that the music is great?  Yes, I did, but I needed to say it again anyway.  The music is great!  There, that's three times!  🙂
Speaking of good-looking babes, let me talk about that some more too!  Megan McDurst (Amanda Alch), Veronica Harmon (Augie Duke), Tricia Wilkes (Ali Faulkner) and Ms. Gleason (Chanel Ryan) is the most solidly sexy quartet of femme fatales I've seen in…well, as long as it's been since I've seen such a good trailer!  I can only filp a coin to pick one who serves up the most eye candy. 🙂
Well, I just can't resist throwing in an extra photo of Augie Duke!  So, here it goes!  Wow!
"…it's a miracle they don't all kill each other." ~ Bad Kids Go to Hell
Do all of the qualities above make a great movie–glitz, glamour, and style combined with murder, madness, and mayhem, along with those beautiful babes to boot?  No, of course not.  However, is it enough to make me spend my money to find out.  Yes, absolutely!  So, dust off those prep-school jackets (or buy yourself a used one), and mark your calendars for Bad Kids go to Hell.  The movie premieres at the San Diego Comic-Con Friday, July 13!  Oh, and "while pondering your erroneous ways," feel free to watch the trailer…repeatedly!  🙂
Bad Kids Go to Hell stars Judd Nelson, Ben Browder, Amanda Alch, Augie Duke, Ali Faulkner, Marc Donato, Chanel Ryan, Cameron Deane Stewart, Jeffrey Schmidt, Roger Edwards, Eloise DeJoria, Íce Mrozek.  It's directed by Matthew Spradlin and written by Matthew Spradlin and Barry Wernick.
You may also like these!